Without having to wait a lot, we finally have the both companies introducing their own audio-listening gadgets. Both Apple and Samsung have released their headphones and we can clearly see what is better on each side.
| | | |
| --- | --- | --- |
| Price | $159 | $129 |
| Colors | White | White, Black, Yellow |
| What's in the Box | Charging case and Lightning cable | Charging Case, USB Type-C cable, eartips, wings |
| Battery Life (Estimated) | 5 hours, 24 hours (charging case) | 6 hours, 7 hours (charging case) |
| Size | 0.7 x 0.7 x 1.6 inches | 0.7 x 0.9 x 0.8 inches |
| Weight (Earbuds, Charging Case) | 0.14 ounces, 1.3 ounces | 0.2 ounces, 1.4 ounces |
Design
As always, Apple has produced and revealed another great product that has become extremely popular after its reveal and many ads are mentioning its greatness.
Samsung designed its Galaxy Buds according to the Gear IconX buds and refined it. It compares a shimmering mix of white matte and shiny pearlescent plastics which make them more comfortable. It even has a curved comfort place on their case.
The Galaxy Buds are still sweat resistant for folks who like to work out and unlike the AirPods offer some much-needed color outside of the default white with yellow and black variations of the buds.
Comfort
AirPods are really comfortable when wearing them, although sometimes are loose fit. Weighing a mere 0.14 ounces and measuring 0.7 x 0.7 x 1.2 inches, the AirPods are truly a no brainer when it comes to comfort. You can hardly even feel them when you go out on the street.
Although, the no side-mounted wing on the side of the AirPods is really missing, as sometimes you really feel that you're gonna drop them with one more hard step.
Meanwhile, the Galaxy Buds are offering a more comfortable fit. With their ear-wing style they are staying stable on the ear and don't move, making your life easier when it comes to working out or running, generally. Sources say that they wore their Buds for more than two hours a day, thanks to the side wing that allows them to listen to their favorite songs during the day.
Controls
A big thing for the Galaxy Buds are the tap controls, compared to the previous Gear Icon X ones. People said that it is so difficult to swipe controls on such a small surface of the Gear Icon X, than it is to just tap the controls on the Galaxy Buds.
The Galaxy Buds require a one tapto play/stop music, two taps to skip a song or answer/end calls and three taps to go to the previous song. It feels good when you answer calls or just tap three times, because it is not quite jarring when you're wearing them.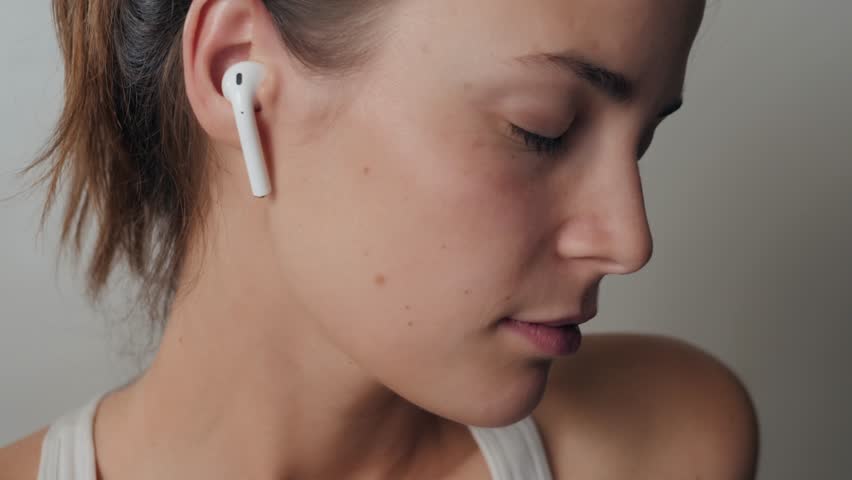 The Apple AirPods are Siri-based, which means that everything you're trying to do with them, you have to do it by talking to Siri, answering calls, start/stop music, skip music. The assistant sometimes is very slow on responding to your requests and sometimes it's just fumbling. If you're a Spotify or Google Music subscriber, you cannot listen to your favorite music, as AirPods (and Apple) don't "like" those services, but you're ok if you use Apple Music.
Special Features
Nowadays, everything we use, we prefer and demand to be smart. Samsung Buds are really amazing when it comes to outside noise. The Buds have a feature (Ambient Noise), which lets the outside street sounds get listened by you, so you be aware of your surroundings.
Also, an amazing feature is the instant connectivity of the Buds. As soon as you open the case and wear the headphones, you'll be notified to your phone, that the Buds are connected and ready to play whatever you like. Many times I personally lose my headphones and I can't find them, Samsung has now achieved to make the Galaxy Buds play a loud noise for you to find them. It is achieveable through a free app (Android, iOS) to help you track down your tiny tech.
The best of features for the Galaxy Buds is the wireless charging. If you own a Samsung Galaxy S10, you can connect them at the back of your phone and seconds later, your Buds will start recharging.
The AirPods has a host of cool features that draw on the devices' accelerometers and Apple's proprietary W1 chip. I like it when I take one of the buds out while listening to music and the AirPods switch from dual channel to mono. This allows you to keep listening to music in one ear while attending to whatever caused me to take out the other AirPod.
The Airpods can also recognize when you're talking, and the integrated microphones work to filter out external noise so whether you're talking to Siri or someone on the phone, you'll be heard loud and clear. Like the Galaxy Buds, the AirPods offer near simultaneous pairing with most Apple devices and have a Find My Buds feature.
Audio
It's nice that the Galaxy Buds and the AirPods have a lot of cool features, but all of it means bupkis if the earbuds don't sound good.
When I first reviewed the AirPods, I thought they sounded "pretty darned good." I still do. They deliver relatively clean vocals with good highs and a solid mid-range performance. The lows can be a bit bloated, however and the presentation overall can sound distant.
For instance, when I listened to Rosie Gaines "I Can't Get You Off My Mind," the pulsating bass line superseded everything but the artist's powerful alto. That meant the keyboard, drums and Electronic Wind Instrument were pushed to the back. It's a problem I also encountered with the Galaxy Buds, but by switching the in-app equalizer to the neutral Clear preset, I got a more balanced performance that allowed every part of the track to be easily heard.
My biggest complaint lies with the shape of the AirPods, as I could never really get the snug fit needed to block out ambient sound. It's especially crucial when you're riding the NYC subway where at its quietest, it's still a dull roar.
Call Quality
As good as the Galaxy Buds sound playing music, that doesn't carry over into making calls. I made numerous calls with the Buds and every time on both ends of the call, the audio was described as loud, but muddy.
Thanks to the AirPods' advanced microphones and voice accelerometer, my callers heard me loud and clear. Some ambient noise crept in every now and then, but the AirPods were clearly superior at taking calls.
Charging Case
You've got to give it to Apple — it knows how to get the most out a relatively piece of tech. Consider the AirPods' charging case. At 1.3-ounces, 1.7 x 0.8 x 2.1-inches, the glossy white plastic case is about as big as a matchbook and about twice as thick. Still, out of that teeny-tiny case, the Pods can get multiple charges, stretching the estimated 5-hour battery life to a full day. And thanks to the quick charge feature, you can get 3 hours of listening time (estimated) from a 15-minute charge.
The Galaxy Buds' 1.4-ounce, 2.8 x 1.5 x 1-inch plastic charging case is shaped like pill. The sleek-looking box falls well short of its boxy counterpart from Apple, delivering only 7 additional hours of charge. The quick-charge feature is also lacking as a 15-minute power up only nets you 1.7 hours of play time.
Battery Life
Samsung claims the Galaxy Buds can last up to 6 hours on a charge. That wasn't too far off the mark during my real world testing as I squeezed 5 hours and 46 minutes out of the Buds' 58-mAH battery. That's longer than the AirPods estimated 5 hours of battery as well as the 4 hours and 29 minutes they lasted in my testing.
Price
With Apple, you're paying for the tech and the name. Priced at $159, the AirPods are reasonably priced with Apple selling replacement buds and charging cases for $69 each.
You can get the Galaxy Buds for a fairly cheap $129.99. There's no word on how much replacement buds or cases will be or if Samsung will give consumers that option.
For the Apple faithful, the $159 AirPods are still king (at least until the AirPods 2 come out), as they provide the most seamless integration with other Apple products. I'm still thrilled by how quickly the AirPods pair with Apple products, and I love how they switch to mono the minute I take one bud out. However, the relatively loose fit and the Siri dependency give me pause. And while the sound is solid overall, the lack of an equalizer means that you're often stuck with relatively balanced highs and mids fighting for space against overaggressive lows.
After some attempts at wireless earbuds with mixed results, it looks like Samsung has finally found the answer to the truly wireless earbud question. The $129.99 Buds offer that same magical instantaneous pairing the AirPods deliver, only for Samsung devices. The refined touch mechanics are easy to learn and master and features like Ambient Noise and the Equalizer allow listeners to tailor their sound to their liking. At nearly six hours of battery life, the sweat-resistant buds outlast the AirPods.
I wish the Galaxy Buds' charging case could provide more than 7 additional hours, and the call quality needs serious tweaking. Still, the Samsung Galaxy Buds are now the wireless earbuds to beat in this increasingly competitive category.
Credit: Tom's Guide
Also Read: