As time passes by, we are getting closer and closer to Apple's next event, WWDC 2019. This year seems to be a big one for Apple. Earlier this month, we've posted everything we know about iOS 13 and watchOS 6, but this year WWDC will unveil the new macOS 10.15. Read on our summation of the features expected for the upcoming macOS 10.15 this year.
Marzipan
First and foremost, we have the macOS 10.15 Marzipan. The Marzipan is Apple's new invention for porting iPad applications into the Mac, which automatically makes the process of developing a Mac app much easier for developers. Apple has previously offered a preview of Marzipan, using it to bring apps like Home and News to the Mac.
Previously, Apple has been using Marzipan to built its own apps and bring them to the Mac, but now developers can use the technology to bring their own iPad apps into the Mac. That may mean, that this will expand the number of Mac applications available to users.
Music app
With the new macOS 10.15 update, a large amount of new apps is expected to be brought alongside. Apple's process for porting iPad applications to the Mac, macOS 10.15 will include a brand new Music app based on iTunes code.
The new Music app will feature a new design based on Apple Music, which we were previously noted this week. The search box has been moved from the right side to the left, along with the user's music library with Apple Music browse functionalities. The new Music app also retains certain classic iTunes features, such as the ability to sync devices.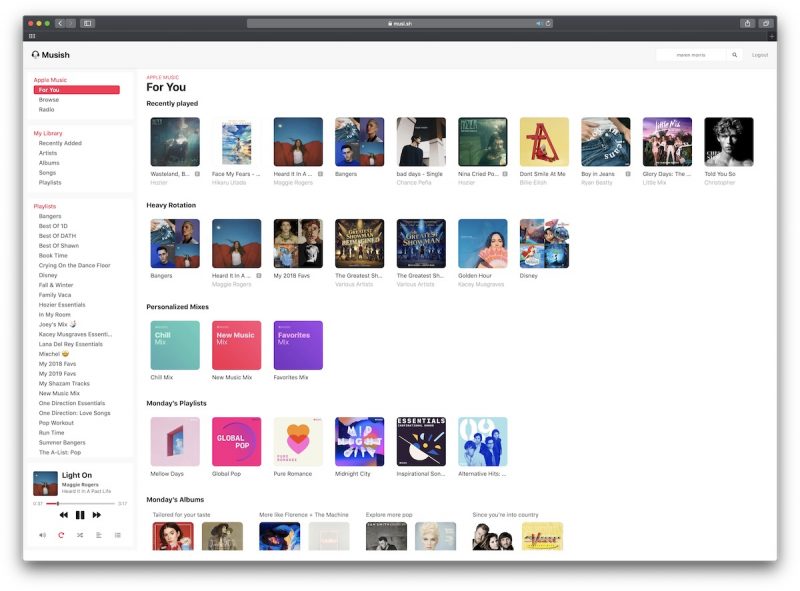 You will now be able to listen to your favorite music in a much easier way than before, in the new macOS, as Apple is focusing purely on music, leaving video and podcasts into separated standalone applications. As we currently have a much more heavier iTunes app, after the company's separation in apps, based on iTunes code, it should be far more lighter with this year's update.
Podcasts
Apple has also unveiled an all-new TV app on iOS and tvOS, and that app will also come to the Mac with macOS 10.15. The new TV app on macOS will allow users to access all features of the TV app on iOS and tvOS. Along the top are different sections for "Watch Now", "Movies", "TV Shows", "Kids", and "Library."
9to5Mac exclusively revealed the design of the TV app on macOS this week, showing its similarities with the iOS version. The new TV app will be made using Marzipan.
With the launch of a new Music app, Apple is also breaking podcast functionality out into a standalone Podcasts application. This application is likely to be built with Marzipan, which means it will look and feel very similar to the Podcasts app on iOS.
Updated Apple Books
In addition to the new apps coming to the Mac with macOS 10.15, the existing Books app is set to get a major update. The new Books app will include a new sidebar design, as well as different tabs for Library, Store, and Audiobook Store. The sidebar will include access to Books, Audiobooks, PDFs, and Collections.
Messages upgrade & Reminders
Messages on the Mac is expected to be updated with new features such as stickers and effects. These features debuted on iOS several years ago, but only now is Apple bringing them to the Mac. The Mac will gain effects such as confetti, lasers, fireworks, and others.
Furthermore, Apple's revamped Reminders app will also come to the Mac this year. We showcased the Reminders design on iOS this week, and we should expect a similar interface on macOS. The new design features a grid layout with sections for tasks due today, as well as scheduled tasks, flagged tasks, and more.
---
Also Read on TechDomes
---
About the Author
Harry King is the main author and also covers Apple and Android news for TechDomes. You can message Harry over email or Twitter.
---
Harry King's favorite gear
---